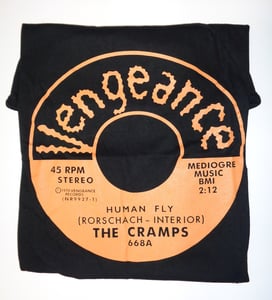 €

17.00
Order it with another item(s)...Save a ton on postage/shipping.
If the size you require is not available (Sold out), just send us an email saying which size and design you want and we will do our best to get it back in stock.
Simple yet marvelous....Says it all....The Cramps : Human Fly. What more do you need from a tee.
Top quality, vivid orange print on a black tee.
Availability
Medium. - 33% in stock

Large. - 33% in stock

X Large. - 100% in stock

XX Large. - 100% in stock