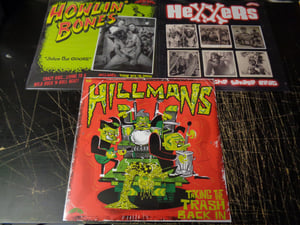 €

35.00
Here's a chance to grab a bargain....3 LPs of glorious Rockin' Trash with cheap international shipping. And remember, you only pay postage on the first item.
The Hillmans : Taking The Trash Back In
The Howlin Bones : Juice The Goose
The Hexxers : Freaks With The Savage Beat
All 3 for only €35.00
Fabulous stuff that you can own with pride....Bat shit crazy indeed !
Ltd availability and cheap international shipping.