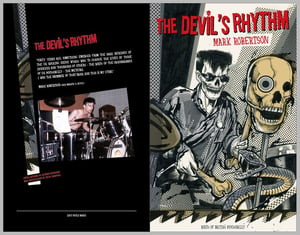 €

12.99
Free shipping on this when you purchase another item.
Absolutely essential....Not only do you get the lowdown on this legendary formation but real first hand insights...On tour with The Carmps, The Fans, The Rise and the implosion....The stuff of legends !
THE DEVIL'S RHYTHM – Birth of British Psychobilly
By Mark Robertson
Published by Lost Souls Books – release date 25 November 2020, (196 pages)
This new book, written by the original drummer of the Meteors, tells for the first time the inside story of the beginnings of Psychobilly with the formation of the grandaddies of the genre. Covering the early appearances and expulsion from the London rocking scene, the development of a unique style of music, the breakthrough "Meteor Madness" EP and film. The book chronicles the carnage strewn live shows, the UK tour with the Cramps and support shows with Killing Joke and The Clash amongst others as well as the recording of the legendary "In Heaven" album and the eventual break- up of the original trio.
It contains detailed information on all the band's recording sessions and a run through of every show the band played. Featuring many photographs never previously seen, it is a must-read for every fan of the Meteors and psychobilly music.