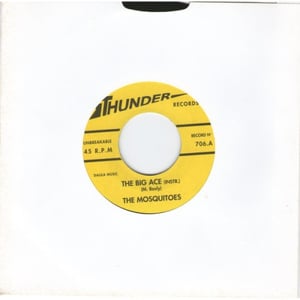 €

7.50
Sometimes cool things turn up when you thought you'd heard most of the stuff out there that are Cramps related...
Here's a great 7" from 1994, recorded by a cheeky French combo called The Mosquitoes who recorded only 2 7"s (The other being a half decent Bo Diddley rip off called Dalila Banana !)...Anyway, they recorded an instro version of Garbageman/Boss and decided to call it their own and gave themselves the writing credits too!...Hat's off, if the Cramps can do it I guess.
More Garbageman than Boss though.....