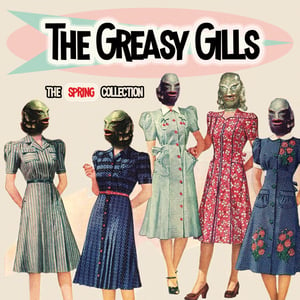 €

10.00
Continuing with our Tsunami of Surf this month....Here are The Greasy Gills ! With their Spring collection all with Gillman heads....Don't fancy yours too much mate !
Comes pressed in a lovely shade of slightly green clear vinyl !
The Greasy Gills "The Spring Collection" - 4 drippy instrumentals on beautiful translucent "sea glass" vinyl. The future sound of the surf! As seen on tour with The Surfrajettes & at Tiki Oasis 2019.
A1 - Swamp Meet
A2 - Mr. Rebel
B1 - U.F.S.
B2 - Steel Guitar Rag
Availability
Clear vinyl. - 44% in stock