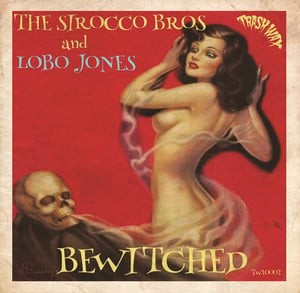 €

12.50
IMPORTANT...THIS IS A PRE-ORDER.
PLEASE DO NOT ORDER WITH OTHER ITEMS UNLESS YOU ARE PREPARED TO WAIT FOR DELIVERY UNTIL RELEASE DATE.
RELEASE DATE 23rd/30th August. DELAYED BY 1 WEEK.....Pressing plant.
This will sell out very quickly.
We're thrilled and very proud to be releasing this 10" by the truly talented and amazing Sirocco Bros along with Lobo Jones, it's a great collaboration and Elliot's vocal delivery fits perfectly with the Sirocco Bros sound....2 awesome tracks, 'Bewitched' coupled with 'Twilight'....A couple of haunting tracks with the trademark S.Bros sound stamped all over it....Voodou tinged, primal Rockabilly as it should be, pure class !
Don't forget to check out their other releases we carry....You need to fill those gaps in your collection.