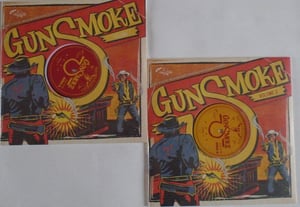 €

15.00
Dark Tales Of Western Noir From The Ghost Town Jukebox !
2 Volumes of very cool Rockabilly and Country death tunes, Vol 1 includes 'Mad Witch by Dave Gardner which our pal Marcel Bontempi covered and released on Witchcraft Int back in 2011, it also includes the brilliant 'His Name Is Jesus' by Selwyn Cox which probably rings a few bells as 'Yodelling Heart' on the awesome 'Wavy Gravy' comp.
Vol 2 carries on from Vol 1 and includes a great version of the Peanuts Wilson classic 'Cast Iron Arm' by Johnny Devlin as well as 'Satan Is Her Name by Steve King & The Echelons....Worth the price of admission alone !
Availability
Volume 1. - 40% in stock

Volume 2. - 0% in stock

Sold Out